A Craftsman of Elsworth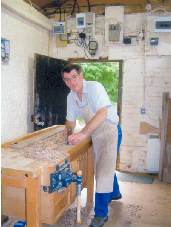 Most of us live in Elsworth as we enjoy village life with its peace and sense of community that its small size brings. It is also most attractive, with its buildings in particular linking us with the past. The way of life has, of course, changed markedly - a cursory glance over census returns of the 19th century shows the presence of many craftsmen and tradesmen in a parish that was self-sufficient to a considerable degree. Wheelwrights, builders, joiners, bakers, butchers etc are listed among the many agricultural workers.
Today most here would be seen as commuters, giving Elsworth the sense of a dormitory village.
Perhaps unknown to many recent newcomers to the village, the craft tradition is not extinct and furniture crafted in Fardell's Lane is known and respected over a great distance. Our church has recently become the proud possessor of an elegant side-table in English oak, the legs of which reflect the grace of the Gothic arches and windows of the building. Adrian Parfitt, its creator, has designed and produced over the years so many pieces of superb furniture that only a passing reference may be made here.
Pride of place must be given, though, to a magnificent round table created for Oxford University around which sixteen people may sit. However, his work is not confined to the grand scale and Adrian produces much for the domestic scene – coffee tables, cabinets, desks and the like.
Much of Adrian's work is characterised by majestic curves that may be created by means of lamination. The form of the design is a product of discussions between the customer and Adrian. A recent example of this was the recollection of a crescent moon influencing the design of a computer desktop.
Adrian came to Elsworth in 1975 following an apprenticeship in London. Prior to setting up on his own account in 1983 he worked in Cambridge. In Elsworth his first workshop was in Brook Street behind No. 10 and in 1983 he moved to his present base in an interesting listed building in Fardell's Lane. The work undertaken here is fascinating, and an attempt to give readers an insight will be contained in the next edition of the Chronicle. The work is of such quality that in years to come owners will surely speak with pride of their example of the work of Parfitt of Elsworth.
Some examples of his work are shown below; click on the thumbnail to see a larger picture. Some more examples of his work are shown in his brochure.
| | | | | |
| --- | --- | --- | --- | --- |
| Altar table in solid and laminated English Oak | Desk in English Walnut | Fan table in Hyedua and birds-eye Maple | Table in solid and laminated English Oak | Hall table in Maple, birds-eye Maple & Walnut |
| Meeting table for Oxford University in Cherrywood and birds eye Maple | Console table in solid and laminated English Walnut | Desk in English Oak | Desk and chair in solid and laminated English Walnut | Desk in English Brown Oak |
| Mirror in solid and laminated English Walnut | Side table in English Walnut and burr Yew | Chair in laminated Cherrywood and birds eye Maple | Chair in laminated English Oak | Chair in solid and laminated English Oak |
© Elsworth Chronicle 2013